Hygiene and sanitary products in Ibiza and Formentera
Industrial Hygiene and Sanitary Products. Occupational Health and Safety.
ASK FOR A BUDGET WITHOUT COMMITMENT
Tell us about your pest problem in Ibiza or Formentera and, whatever the type, we will give you the best solution to control it at the moment. Forget pests today!
Disinfectant
OX-VIRIN Ready to use for surfaces specific for coronavirus, ready to use, 5l or 1l bottle.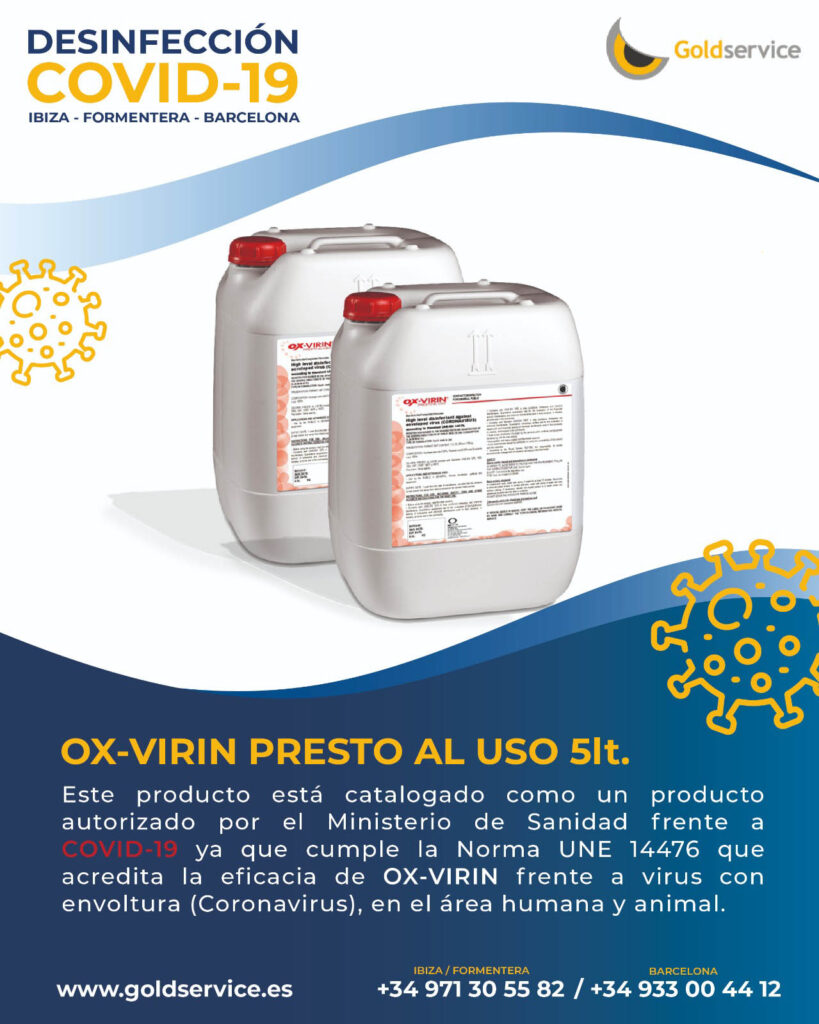 Metal pedestal for automatic or manual dispenser
Recommended for the entrances of public and tourist establishments, where there is no place to hold the dispenser.
SpraySoap manual dispenser for soap and sanitizer
Refillable up to 2000 doses, alcohol spray sanitizer, non-refillable, 400 ml. refills.
Automatic soap and disinfectant dispenser.
Individual refills that help to a better hygiene, avoiding the generation of germs and bacteria as it usually happens in dispensers that are refillable, providing the dosage of the disinfectant directly from the load to your hand in a totally hygienic way, as it has a sensor there is no need to touch it, eliminating the risk of contagion of germs and bacteria. Refill of 2750 doses.
Air hygiene amplifier.
Helps improve air hygiene in enclosed spaces by adsorbing air, filtering it and removing bacteria, viruses, fungi and volatile organic compounds (VOC).
Safe and environmentally friendly system.
Coverage 30m2.
Ozone generators
At GoldService we can provide you with ozone generators for domestic, commercial and industrial use. Ozone acts as a disinfectant and deodorizer helping to fight viruses, bacteria and fungi. Call us and we will advise you.
PROSÁNITIS, a company belonging to the GEDAM Group, offers a wide range of articles for industrial and domestic hygiene. We have a wide range of sanitary products by catalog, consult with our sales department, if you do not find what you need we will look for it.
Bacteriostatics
The bacteriostatic is a device that helps you to reinforce the daily disinfection of your toilet or urinal by being in continuous operation, you will obtain a continuous disinfection by preventing the creation of bacteria. Easy and free installation, seasonal or annual maintenance, do not hesitate to ask for information.
Feminine hygienic containers.
If you do not want a professional maintenance, we can supply you with the containers so that you can do the maintenance with your cleaning staff comfortably and efficiently. Do not hesitate to ask for information.
Fragrances
In Goldservice we can offer you from Scent Marketing to a wide variety of professional air fresheners for any type of business, free installation, annual or temporary maintenance, we also have manual air fresheners. Ask for more information.
Carpets
We provide carpets according to your needs from corporate carpets to enhance the image of your company as anti-fatigue, disinfectants, anti-slip etc. …. tell us what your needs are and we will advise you in the best way.
Trust GoldService for COVID-19 disinfection.
Goldservice offers a comprehensive service in environmental health and pest control in private homes, restaurants, hotels, hospitals, airports and more. Count on us not only for pest control, but also for advice on analysis and treatment of water for the control of legionella, food and air, as well as training.
We take care that the image of your business does not have negative repercussions, always with the greatest discretion, both in the image of our technicians, as well as in our vehicles, even our name does not suggest that we are an exclusively pest control company.
We are committed to your health and the conservation of the environment, preserving at all times the fragile and precious ecosystem of Ibiza and Formentera that we respect so much. For this reason, our company has a strict policy on the use of biocidal products, choosing those with the least toxicity and at the same time with the best results, offering the best value for money.
In addition to complying with all legal requirements, we consider many more security measures. Only with the sanitary registration does not guarantee a safe service. For this reason, we have a team of qualified technicians in biocide services, biologists, chemists, technicians in environmental sciences, dietetics and nutrition, in addition we are subscribed to specific information channels to anticipate the regulatory changes that continuously occur in our sector, to guarantee to our clients that at all times we will be aware of the current regulations that are increasingly demanding.
GoldService: Disinfections for Coronavirus Control
We carry out disinfections in any town on the island of Ibiza and Formentera. Personalized budget, without cost or commitment.
Call us in one click! +34 971 30 55 82
Write us in one click! info@goldservice.es
Visit us at our offices
Crta. San Jose Km. 1,1
07817 – Sant Jordi
Mondays – Fridays 9:00 – 18:00
Saturdays and Sundays Closed