Hygiene and sanitary products in Barcelona
Industrial Hygiene and Sanitary Products. Health and safety at work.
WE CARRY OUT EMERGENCY DISINFECTIONS FOR YOUR GREATER PEACE OF MIND
Goldservice has high quality, reliable and fast treatments for coronavirus disinfection
Disinfectant
OX-VIRIN Ready to use for specific surfaces for coronaviruses, ready to use, 5l or 1l bottle.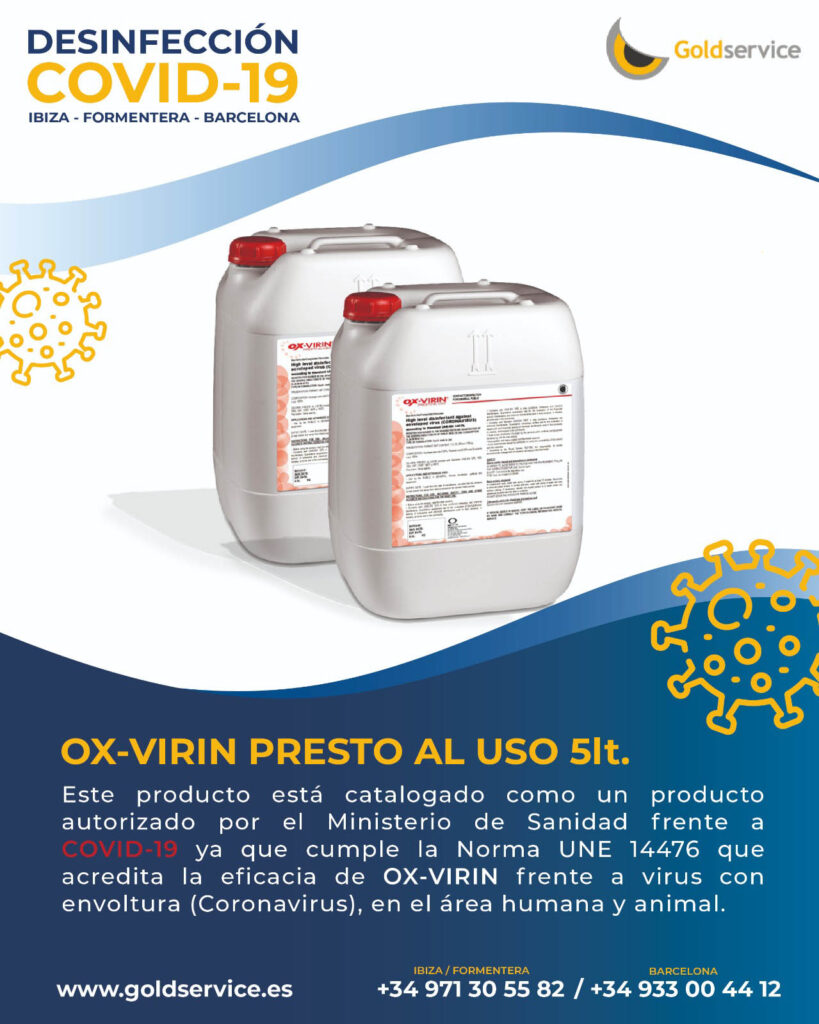 Metal foot for manual or automatic dispenser
Highly recommended for the entrances of public and tourist companies, where there is nowhere to fix the dispenser.
SpraySoap Manual Soap and Sanitizer Dispenser
With refills up to 2000 unit doses, of hydroalcoholic gel, 400 ml refills.
Autofoam automatic disinfectant soap and disinfectant dispenser.
Individual refills for greater hygiene, preventing the creation of bacteria and germs as normally happens in refillable dispensers, supplying the dosage directly to your hand in a totally hygienic manner, since it has a sensor it is not necessary to touch it, eliminating the risk of transmitting bacteria and germs. Load of 2750 doses.
Air hygiene amplifier.
Helps to intensify air hygiene in closed rooms. It adsorbs the air, filters it and expels it purified once bacteria, fungi, volatile organic compounds (VOC) and viruses have been eliminated.
Environmentally friendly and safe system.
Coverage 30m2.
Ozone generators
At GoldService we can supply ozone generators for commercial, domestic and industrial use. Ozone works as a deodorizer and disinfectant, helping us fight bacteria, viruses, and fungi. Call us and find out.
Hand in hand with PROSÁNITIS, a GEDAM Group company, we provide you with a wide variety of articles for domestic and industrial hygiene. We have at your disposal a wide range of sanitary ware by catalog, our commercial department will advise you without any kind of commitment, if we do not have what you need, we will look for it.
Bacteriostatic
The bacteriostatic is a device that will help you intensify the daily disinfection of your urinal or WC by being in constant operation, obtaining continuous disinfection preventing bacteria from developing. Free and easy installation, annual or seasonal maintenance, ask for information without obligation.
Feminine hygienic containers.
If you do not need professional maintenance, we can provide the containers for your cleaning staff to do the maintenance comfortably. Find out without obligation.
Fragrances
At Goldservice we offer a variety of professional air fresheners to Olfactory Marketing for any type of company, free installation, annual or temporary maintenance, we can also provide you with manual air fresheners. Consult without obligation.
Carpets
We supply a wide variety of mats according to your needs, from non-slip mats, anti-fatigue mats, disinfectant mats to corporate mats to reinforce the image of your business, etc. Tell us your needs and we will advise you without obligation.
Trust GoldService for COVID-19 disinfection
GoldService is specialized in disinfection services for restaurants, hotels, private properties, health centers and hospitals, airport facilities… We have a group of specialists in preventive and positive treatments.
At Goldservice we know that privacy is important to your business and to you. Our disinfection treatments are carried out with total discretion, thus taking care of the public image of our clients.
Our company has a strict policy on the use of biocides. We select products capable of offering the best results and, at the same time, that include less toxicity. All of them without affecting our excellent value for money.
Goldservice is registered in the ROESB Official Registry of Biocide Services. We know that it is not enough to comply with the legal requirements, therefore, we have other security measures designed to protect you, such as Accident Insurance.
GoldService: Disinfections for the control of Coronavirus
We carry out disinfections in Barcelona and surroundings. Personalized budget, without cost or commitment.
Call us in one click! +34 93 300 44 12
Write us in one click! infobcn@goldservice.es
Visit us at our offices
Avgda. Meridiana 363 1º 1ª
08016 – Barcelona
Monday – Friday 9:00 – 18:00
Saturday and Sunday Closed