Training in Environmental Health in Barcelona
WE CARRY OUT EMERGENCY DISINFECTIONS FOR YOUR GREATER PEACE OF MIND
Goldservice has high quality, reliable and fast treatments for coronavirus disinfection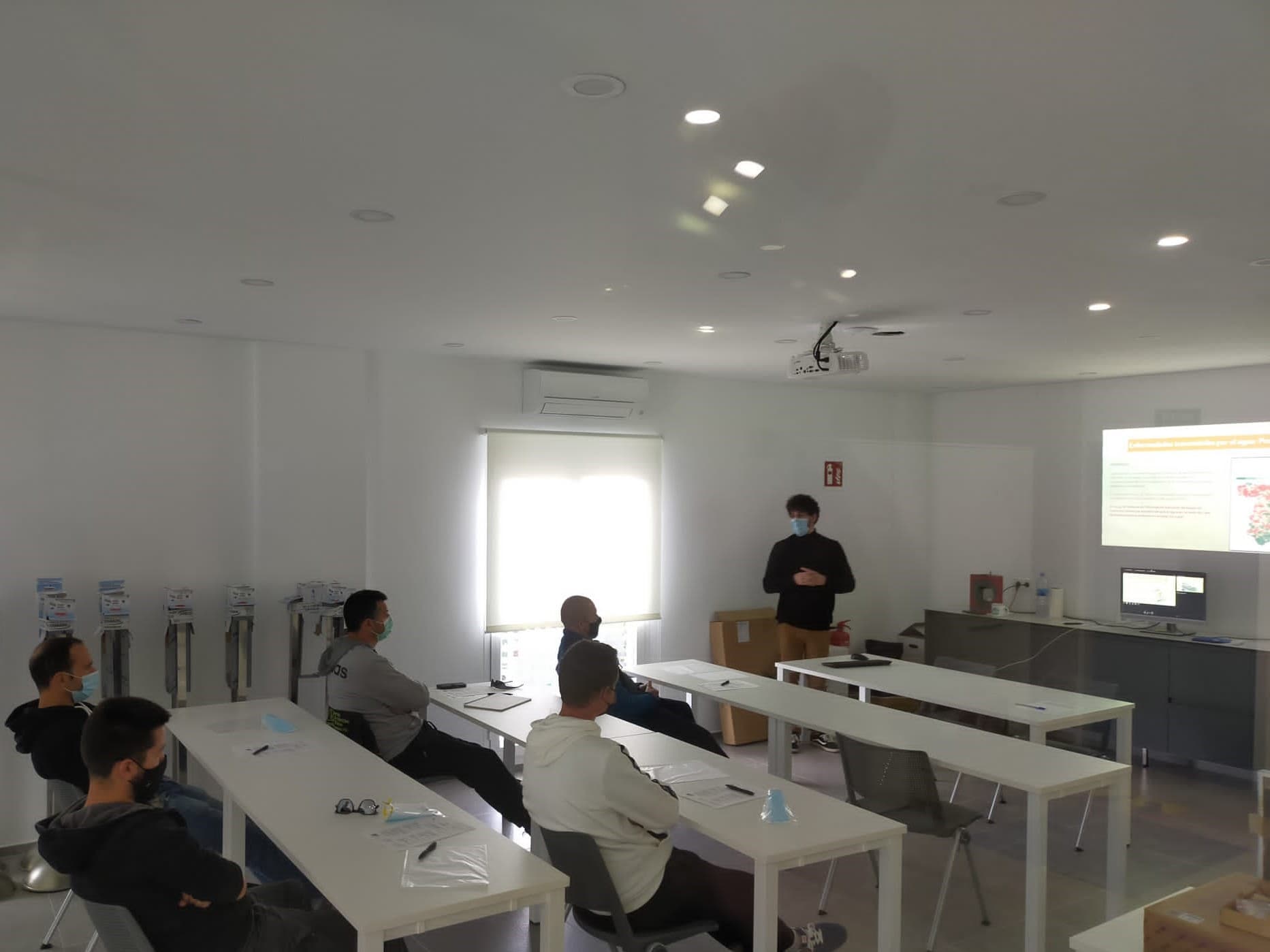 Training is essential for the personal and professional development of any worker and business. Transforming health obligations into development opportunities effectively is our goal. Choosing us as a training company is very profitable, since we adapt to the needs of each client, kitchen, facility and business.
We carry out specific and professional training in our Goldservice training classroom or by moving our trainers to your home and workplace. We also have an online or mixed modality to cover all the needs that may arise.
We have specific agreements for bonus training, as well as solidarity scholarships for people with few resources.
Find out and present your case or training need, trust Goldservice as your training entity.
We teach the following courses:
Low Risk Food Handler
High Risk Food Handler
Allergens and food intolerances
Prevention of bedbugs in tourist accommodation. Bedbugs Free
Wood pathologies in construction and restoration.
Ebola and biohazards. Cleaning and disinfection procedures.
Ebola and biological risks in health personnel.
Safe Chef. Advanced level in food safety.
Legionella control and prevention official course.
Legionella control and prevention official renewal course.
Preventive course for covid-19.
Course on handling water for human consumption.
Pool maintenance course for collective use.
Identification and detection course of snakes (snakes).
Confíe en GoldService para la desinfección por COVID-19
GoldService is specialized in disinfection services for restaurants, hotels, private properties, health centers and hospitals, airport facilities… We have a group of specialists in preventive and positive treatments.
At Goldservice we know that privacy is important to your business and to you. Our disinfection treatments are carried out with total discretion, thus taking care of the public image of our clients.
Our company has a strict policy on the use of biocides. We select products capable of offering the best results and, at the same time, that include less toxicity. All of them without affecting our excellent value for money.
Goldservice is registered in the ROESB Official Registry of Biocide Services. We know that it is not enough to comply with the legal requirements, therefore, we have other security measures designed to protect you, such as Accident Insurance.
GoldService: Disinfections for the control of Coronavirus
We carry out disinfections in any town in Barcelona. Personalized budget, without cost or commitment.
Call us in one click! +34 93 300 44 12
Write us in one click! infobcn@goldservice.es
Visit us at our offices
Avgda. Meridiana 363 1º 1ª
08016 – Barcelona
Mondays – Fridays 9:00 – 18:00
Saturdays and Sundays Closed
GoldService has approved systems to offer air quality control in any type of room, be it industrial buildings, offices, health centers and homes. Discover all our services in our air quality section both in Ibiza and Formentera and in Barcelona.
Water, so necessary for life, can be a transmitter of diseases that affect us directly. At Goldservice we take care of carrying out prevention plans, tank cleaning and treatments against legionella in all types of facilities.
The lack of food hygiene causes disorders to our body and poisoning, as well as favors the appearance of pests of insects and rodents in the food industry. We carry out HACCP plans, audits and analyzes for all types of facilities. Find out more about our food safety services.
ENVIRONMENTAL HEALTH TRAINING
In our classrooms, approved training courses for food handlers, Legionella prevention, swimming pool maintenance and handling of drinking water tailored to the client are taught. Visit our section.