Water analysis in Barcelona
WE CARRY OUT EMERGENCY DISINFECTIONS FOR YOUR GREATER PEACE OF MIND
Goldservice has high quality, reliable and fast treatments for coronavirus disinfection
Water is one of the main means of diffusion of pathogenic bacteria and diseases for humans, whether in ornamental fountains, drinking water, or public facilities such as swimming pools. A clear example is the diseases caused by the Legionella bacteria.
As established by RD 865/2003, which is mandatory, all those facilities that store water, generate aerosols and are for public use that could become a source of spread of Legionella have to carry out controls while they are in operation.
In the same way, according to RD 742/2013, which is mandatory, all those venues with swimming pools for public use have to carry out controls to reduce chemical, physical and microbiological risks in the use of their water.
Also, at Goldservice we carry out monitoring and control plans for all types of installations:
Health centers and hospitals.
Private clinics and residences.
Restoration and hospitality.
Sports facilities and swimming pools.
Communities of neighbors and private houses.
We provide a wide range of services to make them a safe establishment:
Monitoring and development of Legionella prevention plans.
Disinfection and cleaning treatments for drinking water tanks and circuits.
Monitoring and development of pool maintenance and self-control plans.
Analysis of wells, osmosis water, drinking water, industrial water, residual water…
Training of Drinking Water Handlers.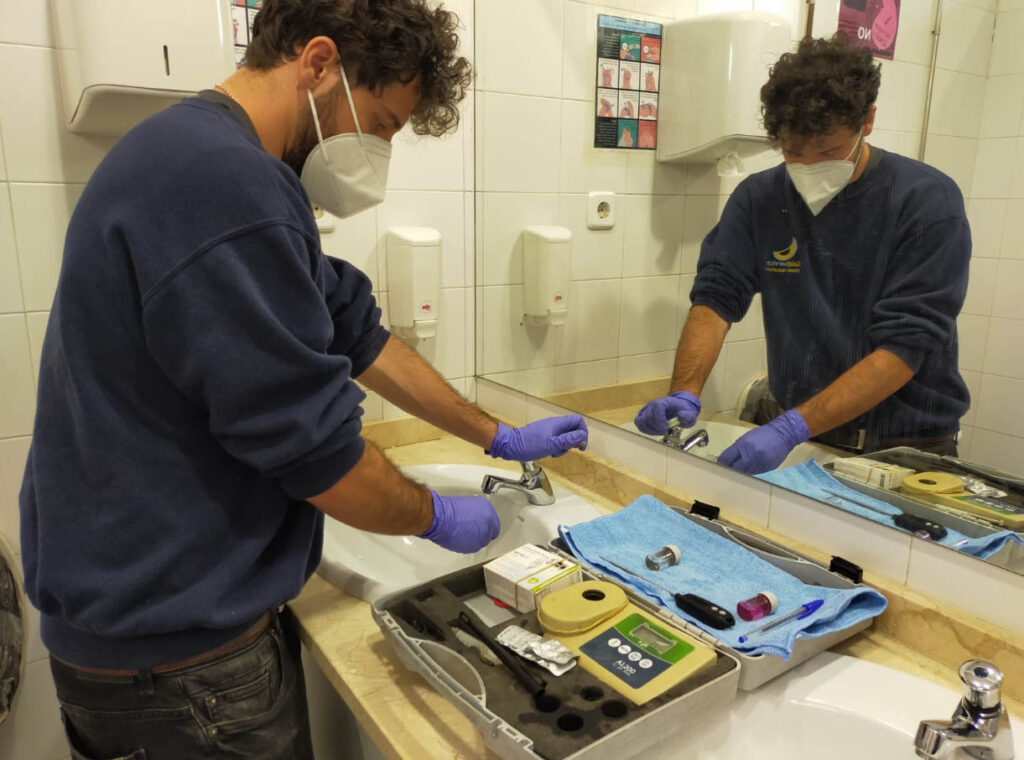 If you have any questions or needs related to water management, do not hesitate to call us. Our team of experts made up of Chemists and Biologists is available to help you.
Trust GoldService for COVID-19 disinfection
GoldService specializes in disinfection services for restaurants, hotels, private properties, health centers and hospitals, airport facilities… We have a group of specialists in preventive and positive treatments.
At Goldservice we know that privacy is important to your business and to you. Our disinfection treatments are carried out with total discretion, thus taking care of the public image of our clients.
Our company has a strict policy on the use of biocides. We select products capable of offering the best results and, at the same time, that include less toxicity. All of them without affecting our excellent value for money.
Goldservice is registered in the ROESB Official Registry of Biocidal Services. We know that it is not enough to comply with the legal requirements, therefore, we have other security measures designed to protect you, such as Accident Insurance.
GoldService: Disinfections for the control of Coronavirus
We carry out disinfections in any town in Barcelona. Personalized budget, without cost or commitment.
Call us in one click! +34 93 300 44 12
Write us in one click! infobcn@goldservice.es
Visit us at our offices
Plaça d'Ovidi Montllor, 1, local 2,
08820 El Prat de Llobregat, Barcelona
Mondays – Fridays 9:00 – 18:00
Saturdays and Sundays Closed