Experts in treatment and prevention of legionella and control of drinking and waste water
ASK FOR A BUDGET WITHOUT COMMITMENT
Tell us about your pest problem in Ibiza or Formentera and, whatever the type, we will give you the best solution to control it at the moment. Forget pests today!
COVID-19 disinfection Ibiza and Formentera
At Goldservice, for good health, you can find everything that you need to continue enjoying this precious and important necessity. We can help you with the control and analysis of drinking water, treatment and prevention of Legionnaires' disease, analytic control of bath water and also advise on water standards, quality, utility and sustainability.
Goldservice has at its disposition highly trained professionals with the latest information and innovations. No mater what your needs, if it has something to do with water, we will take care of it with pleasure.
In our primary services we specialize in:
Design and implementation of the prevention of Legionnaires' disease.
Treatments for Cleaning and Disinfection of Water Deposits and Controlled Water Systems.
Design and follow-up of Self Control for swimming pools.
Analytic control of swimming pool water.
Analysis of all types of water (Water for health uses, Residual, Industrial…).
As with all our services, we can advise you in case you would like to do these services yourself or we can do it for you with our team of professionals.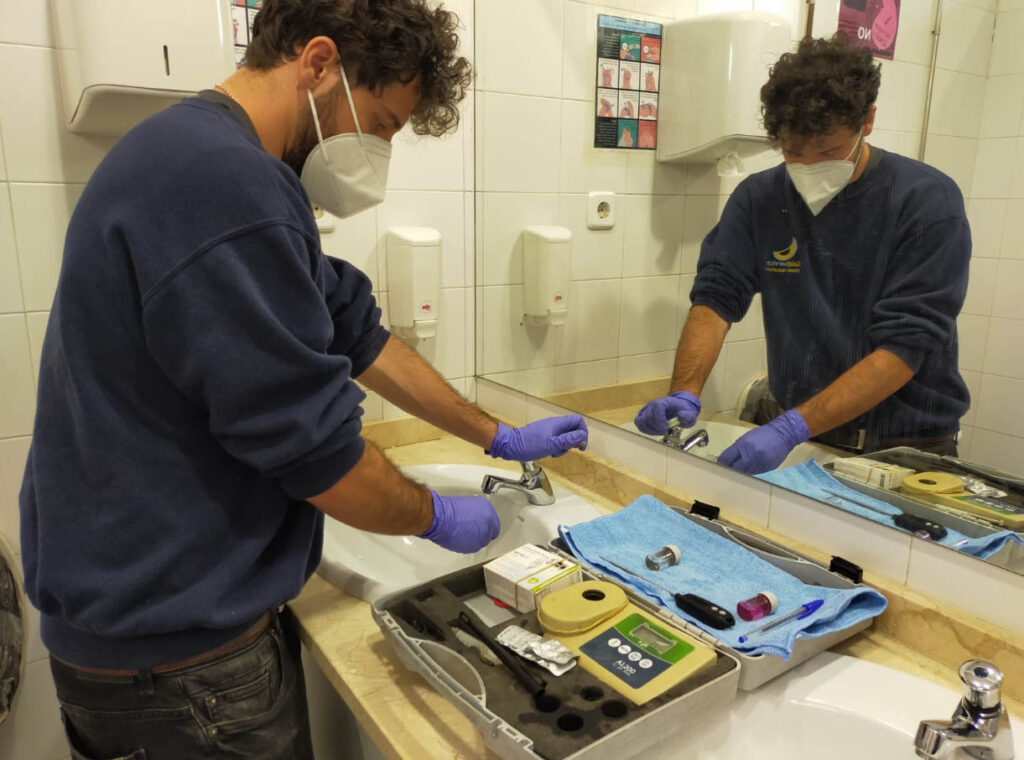 For any need or query related to water management, do not hesitate to contact us. We have a team of experts made up of Biologists and Chemists available to help you.
Trust GoldService for COVID-19 disinfection
GoldService is specialized in disinfection services for restaurants, hotels, private properties, health centers and hospitals, airport facilities… We have a group of specialists in preventive and positive treatments.
At Goldservice we know that privacy is important for your business and for you. Our disinfection treatments are carried out with total discretion, taking care of our clients' public image.
Our company has a strict policy on the use of biocides. We select products capable of offering the best results and, at the same time, that include a lower toxicity. All of them without affecting our excellent quality-price ratio.
Goldservice is registered in the Official Register of Biocide Services ROESB. We know that it is not enough to comply with legal requirements, therefore, we have other security measures designed to protect you, such as accident insurance.
GoldService: Disinfections for the control of Coronavirus
We carry out disinfections in any town on the island of Ibiza and Formentera. Personalized budget, without cost or commitment.
Call us in one click! +34 971 30 55 82
Write us in one click! info@goldservice.es
Visit us at our offices
Crta. San Jose Km. 1,1
07817 – Sant Jordi
Mondays – Fridays 9:00 – 18:00
Saturdays and Sundays Closed
Goldservice has approved systems to offer air quality control in any type of room, be it industrial buildings, offices and homes. Discover all our services in our air quality section.
Water is necessary for life, but it is also a perfect transmitter of diseases that go directly to our body. It is also a perfect means of attraction for all kinds of pests. Some of them use the water for their reproduction, depositing their larvae. If you need more information, visit our water analysis service.
It is not only compliance with current regulations, food safety is usually quite responsible for most of the pests that occur in homes and businesses. Find out more about our food safety services.
ENVIRONMENTAL HEALTH TRAINING
At Goldservice we adjust to your needs, personalized varied courses to meet the needs of each client.
Visit our training room.